The school day at Sussex prep school Sompting Abbotts
Each day is filled with activity at Sompting Abbotts, packed with learning, fun, sports, fresh air and friendship. There are plenty of opportunities after school too for those with the appetite and energy for more experiences, via a choice of extra-curricular activities and clubs
Pre-Prep School Day
8am: Early Room. Children are dropped off from 8am where a member of the Pre-Prep staff will supervise them in quiet play.
8.30am: Early room children are walked back to classrooms. Pupils are able to arrive at classrooms from 8.30am. Children will be heard reading and given focussed quiet tasks. Class teachers are available to parents to discuss any queries or to arrange to meet for a talk after school.
8.55am: Registration. Children should arrive in class by 8.55am for registration to be ready for lessons at 9.00am.
9.00am: First lesson of the day - normally maths or literacy. EYFS may use the outside classroom.
10.00am: Whole Pre-Prep assembly. This changes each day and might be a sharing assembly, hymn practice, celebration assembly, story assembly run by a Pre-Prep teacher or a class assembly.
Outdoor play in the Walled Garden and Apple Orchard
We go out for playtime in all weathers. There's a well-equipped play area and children wear their red tracksuits and wellies to protect their uniforms.
10.25am: Playtime. Nursery children have a snack just before then have fun in our walled garden on climbing frames, sandpit, trikes, and outside toys. The Pre-Prep children take their snack to the main field which is equipped with outdoor toys.
10.55am: Second lesson of the day - normally maths or literacy.
11.55 am: We wash hands and walk to the Refectory for lunch. Each class sits with their class teacher. The children are served freshly prepared meals, encouraged to use good table manners and try new foods. They put away plates and cutlery afterwards.
12.30pm: Lunch playtime. Often the nursery and Pre-Prep children will play together to encourage cross-years interaction.
1.00pm: Afternoon lessons. EYFS children have shorter lessons and more play-led activities. They have specialist teachers for French, art, music, PE and RE. The grounds are used for outdoor learning as often as possible.
3.15pm: Home time. Children are walked out to meet their parents/carers by their teacher. Many stay on in the Late Room or do an after-school club and have a snack and drink beforehand.
3.30pm: After-school club begins. Clubs are run from Tuesday to Thursday and offer a range of activities including ballet, arts, crafts, cookery, sports and games. Children not attending clubs play, draw or read within one of the Pre-Prep classrooms supervised by a teacher.
4.00pm: Clubs finish. Children meet parents/carers. Children who are not being collected at this time are taken to the Late Room.
4.30pm: End of Late Room. Any children staying in school later (for example those who have older siblings) are taken to the Library to be supervised by the Main School teacher on duty.
Main School Day
7:30 am-8:25am: Students arrive and play in the Assembly Room or read in the Library under supervision. Early arrivals are often to be found playing table-tennis or relaxing in armchairs with books, supervised by a duty teacher.
8:30am: Years 3-8 arrive in their form rooms for registration with their form teacher.
8:40am: Years 3-8 congregate in the Assembly Room for morning assembly. The school sings a hymn and listens to presentations by staff, guest speakers or other students.
9am: Lessons begin.
10:55am: Lessons finish and morning break-time begins.
11:15am: Morning break-time finishes.
11:20am: Lessons begin.
12:35pm: Lessons finish and Years 3-8 assemble for pre-Lunch notices.
12:40pm: Years 3-8 go to the Refectory to eat a home-cooked lunch. This, when possible, includes fresh vegetables the children have grown themselves in our plots and greenhouses during after-school Gardening Club.
1:00pm: Afternoon break-time begins.
1:25pm: End of break-time. Students are registered by teacher of 1st lesson.
1:30pm: Lessons begin.
3:20pm: Ten-minute break-time.
3:30pm: Lessons begin.
4:30pm: End of lessons. Pupils are supervised in the Library by the duty teacher. There's also a big choice of extra-curricular activities and clubs the children take part in such as Computing & Advanced Coding, Anglo-Saxon Club, Mountain Biking, Cookery, Gardening Club, Squash and Shooting.
5:00pm: The duty teacher and students in Late Room (where they can stay until 6.00pm) go to IT Room/Room A for Prep.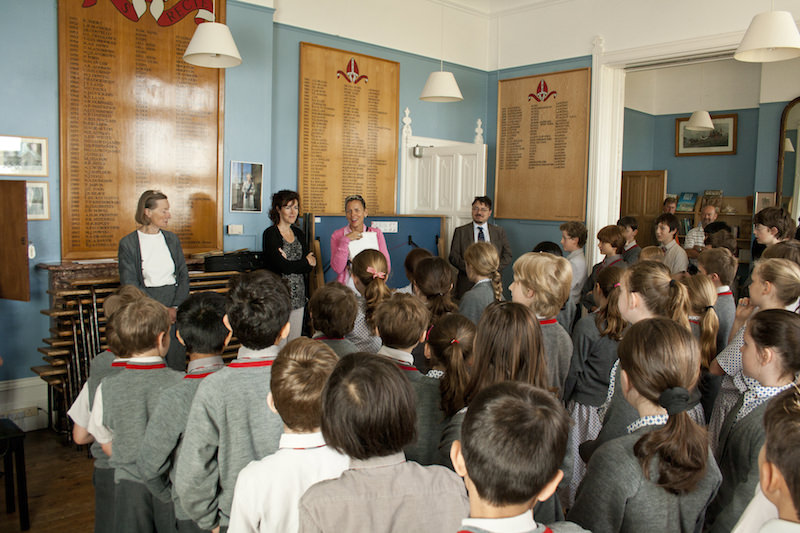 Main School morning assembly is a daily ritual of solidarity and inspiration that allows children to better understand the big picture of their learning and school life. We sing a hymn together. Singing at the start of the day wakes us all up and is a proven method to aid focus, concentration and of course, open up the lungs. We then say the School Prayer and Lord's Prayer. Children sometimes give a presentation or perform a dramatic piece, the Headmaster and staff also deliver talks, and visiting speakers, such as a a chaplain or educational specialist, present to the school. Recently, Year 3 acted out the tale of Theseus and the Minotaur and Year 5 produced a concise Macbeth. (For drama presentations, parents are invited to attend.)