Sompting Abbotts Preparatory School is a West Sussex private school that has educated children since the era of George V
Sompting Abbotts Preparatory School is an independent school in Sussex that owes its existence to two families: the Rutherfords and the Sinclairs.
A tale of two families
The school at Sompting Abbotts was founded three years after the 1914-1918 Great War by the Rutherford family. It was a thriving boys' boarding school from 1921 until 1939 and the outbreak of the Second World War. The surrender of France in 1940 forced the school's temporary closure. The pupils were evacuated to Wales and the British Army requisitioned the house and grounds.
A fresh start
In 1946, the Sinclair family resurrected Sompting Abbotts Preparatory School as a Sussex independent school, taking on what had become a dilapidated great house.
The late Mr Nigel Sinclair, recalled the state of Sompting Abbotts after the army had left: "It was a depressing sight. All the playing fields and lawns were an unrecognisable overgrown jungle of grass and bushes," he wrote. "The house had nearly all its windows broken." Undaunted, the Sinclairs developed a flourishing school.
Back to school
Fast forward to today. Over the years, there have been many changes. The school became co-educational in 1998. It ceased to take boarders in 2008. The school has had six headmasters John Hammond, George Rutherford, Nigel Sinclair, Richard Johnson and Timothy Sinclair. The current head is Stuart Douch.
Today, Sompting Abbotts Preparatory School is a successful West Sussex independent day school for girls and boys aged 2 – 13. It has been run by the Sinclair family for three generations. Patricia Sinclair serves as Principal, her son David Sinclair as Bursar and daughter Ruth Sinclair as Director.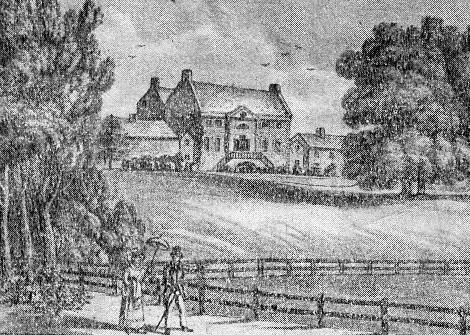 The Grade II-listed house in which the West Sussex private school Sompting Abbotts Preparatory School is housed is Neo-Gothic style.
It was originally known as Sompting Manor (pictured here circa 1814). It was later re-built using stone from the manor house and you can still see remains of the original building in the school grounds.
Sompting Abbotts, and the surrounding estate, have been continuously settled since Neolithic times. Where children now play in Sompting Abbotts Preparatory School grounds, Romans once marched. The Chichester–Brighton Roman road runs right through the school parkland. The Saxons called Sompting 'Sultinges', the land of the swamp-dwellers, due to its marshy grounds.
Sompting Abbotts was known as Sompting Manor in the 11th century. Its name changed after 1066 and the Norman invasion when it fell into the hands of the Abbey of Fécamp and then in 1414 it became part of the estate of Syon Abbey in Middlesex.
Following Henry VIII's Dissolution of the monasteries, Sompting Abbotts was granted in 1540 to Thomas Howard, Duke of Norfolk, and then to the Earl of Arundel. It was then owned by a succession of yeomen families.
By 1830, the manor and its 1,500 acres had descended to Reverend P.G. Croft. In the early-18th century, Sompting Abbotts would have looked very different to today. Then it was a large manor house with a symmetrical south front of five bays.
Photo credit: www.lancing-sompting-pastfinders.org.uk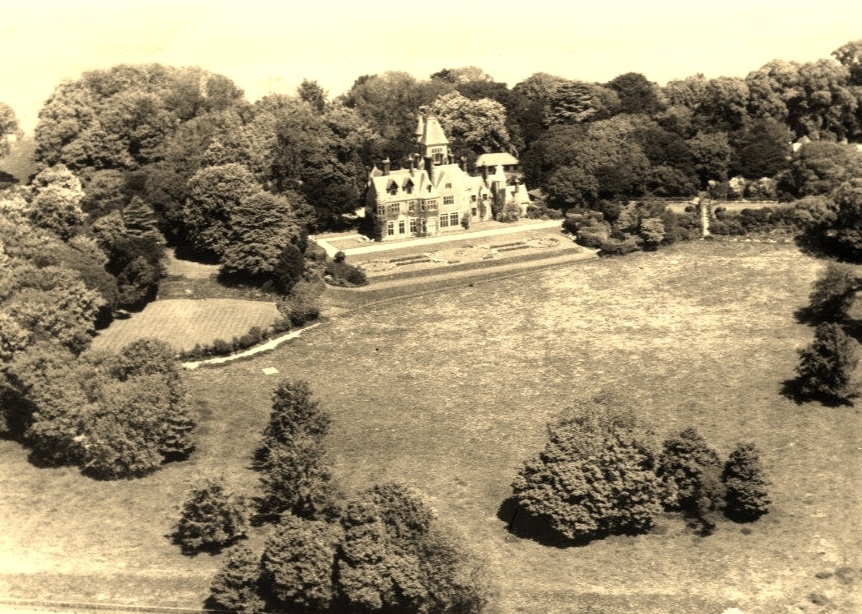 The Architect Behind Sompting Abbotts' Twirling Turrets and Towers
In 1855, Sompting Abbotts' owners, the Croft family, decided to update and transform the building into a residence altogether more spectacular. Henry Croft was a Romantic and influenced by the fashionable Neo-Gothic movement. He commissioned the celebrated architect Phillip Charles Hardwick to create his sumptuous new home.
Hardwick was the leading architect of grandiose banking offices, including Drummond's in Trafalgar Square. His best-known work was the Great Hall of Euston railway station.
He was architect to the Bank of England from 1855 to 1883. He was also responsible for the architectural design of Charterhouse School, Surrey, and Great Western Royal Hotel at Paddington Station.
Hardwick's creation for Sompting Abbotts was completed in 1856. It featured flat flint stonework, steep slate roofs, casement lancet windows, stone mullions, spikey spires, octagonal towers, secret spiral staircases and a castellated parapet.
For the children at this independent school near Worthing, Sompting Abbotts Preparatory School, today, the architectural terms have little significance.
For them, their lofty school building simply inspires their imaginations and makes them dream.
Of Hogwarts, the Disney Castle and Sleeping Beauty's palace...
Photo credit: www.lancing-sompting-pastfinders.org.uk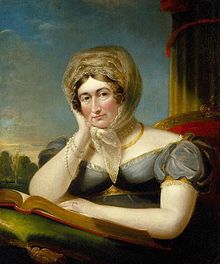 Did you know that the Princess of Wales, Caroline of Brunswick, wife of King George IV, stayed at Sompting Abbotts in 1814?
Her visit followed a scandalous stay in Worthing when the Princess and Prince of Wales were unhappily married. There being no suitable stately home at Worthing, she chose Sompting Abbotts at which to overnight.
The Princess disembarked the next day from Lancing for France. She returned in 1821 for her husband's coronation to demand her place as Queen Consort.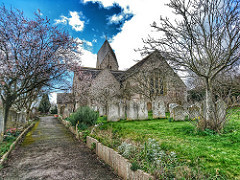 St Mary's Church, Sompting
Our school, since its foundation, has maintained close links with the neighbouring Saxon-built church of St Mary's in Sompting. It's where we hold our annual Christmas carol service, Easter service and Harvest Festival. Photo: Mark Bridge, Flickr
The backstory of Sompting Abbotts Preparatory School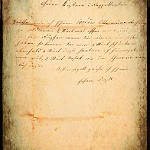 What did a letter, dated 1939, found under the floor of a dorm at Sompting Abbotts reveal?
Staff at Sompting Abbotts
Do you recognise the immense entrance doors to the school? They've changed little since 1856.
This picture, thought to date from 1913, shows the household staff. Like most manor houses of the time, Sompting Abbotts had an extensive staff.
Photo credit: www.lancing-sompting-pastfinders.org.uk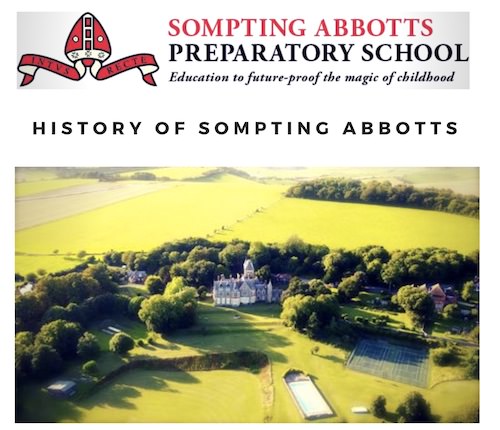 Intrigued to learn more about the history of Sompting Abbotts?