The Music Curriculum at West Sussex prep school Sompting Abbotts
Music plays an important role in the life of Sompting Abbotts School.
All our pupils are encouraged to try an instrument and trial lessons are available for a variety of orchestral instruments. The school offers individual lessons with our team of dedicated peripatetic teachers in Drums, Guitar, Piano, Cello, Violin, Saxophone, Singing, Clarinet and Flute.
Many students go onto take grade examinations, achieving excellent results, and we're very proud that the school's most able musicians regularly gain Music Scholarships to the senior schools of their choice.
Approach
We encourage all children to participate and gain confidence through a mix of musical experiences.
Singing lies at the heart of good music teaching. So our teaching focuses on developing the children's ability to sing in tune and with other people. Through singing songs, children learn about the structure and organisation of music. We teach them to listen and to appreciate different forms of music. As the children get older, we expect them to maintain their concentration for longer and to listen to more extended pieces of music. Children develop descriptive skills in music lessons when learning about how music can represent feelings and emotions. We teach them the disciplined skills of recognising pulse and pitch. We also teach them how to work with others to make music and how individuals combine together to make sounds. We also teach them musical notation and how to compose music.
We recognise that there are children of different musical abilities in all classes and match the challenge of the task to the ability of each child. The methodology by which this aim is achieved includes:
Setting common tasks which are open-ended and can have a variety of responses
Setting tasks of increasing difficulty (not all children may complete tasks)
Grouping children by ability in the room and setting different tasks to each ability group
Providing resources of different complexity depending on the ability of the child.
The Music Department stages several concerts each year and our Summer Concert is a delightful event parents look forward to. At Christmas, our children perform in the community (including Worthing Rotary Christmas Tree appeal and also for the Adur Chairman's Christmas Service in St James the Less, North Lancing). Rehearsals for choir, recorder groups, chamber and string bands take place in readiness for performances.
What will my child study?
Year 4
We teach students to:
Read notes in the treble clef and become familiar with simple note values
Be able to play an instrument (recorder) with relative ease and to introduce them to other instruments
Play and sing with other students in unison and in parts
Listen to a piece of music and identify different orchestral instruments
Articulate features of the music with suitable vocabulary such as structure, tempo, dynamics, style, articulation, tonality, rhythm and melody
Work on their performance skills, composing skills, improvisation and appraising skills
Year 5
We teach students to:
Read notes in treble and bass clefs and become familiar with simple note values
Working on questions from Grade 1 Theory paper (ABRSM)
Identify different orchestral instruments
Play with other children in unison and in parts by working on breathing and articulation in singing style and singing in unison and one, two, three or four parts
We provide children with a wide-ranging repertoire of pieces they can listen to and enjoy, to give them opportunities to find out how music is put together and provide opportunities to compose and perform their own music.
We also learn about Dance Around the World and through the ages; do recorder work on Razzamajazz, with some children working towards a concert piece for the Summer Concert.
Year 6
This year includes:
Performing ukulele, working on singing, a Victorian Music project, working on form carol for Carol Service
Working on dynamics, duration, texture, tonality, genre, instrumentation, context, structure and tempo; working on AB Theory; performing and recording work.
Working on Danse Macabre by Saint-Saens, Sabre Dance and Swan Lake and experiencing music from Tudor styles through to Rock.
Year 7
This year covers:
Music of the British Isles: cultural heritage of music from England, Scotland, Ireland and Wales; composing and performing Celtic jigs; preparation for Carol Service and form carol.
Studying Beethoven: Beethoven Project
Film Music/Background Music, Music for Advertisements; composing own music and recording own music.
Year 8
This year includes:
Enabling pupils to compose tunes at the keyboard using bass and treble clef; building on existing musical skills and working towards an extended composition later in the year; teaching 4-bar phrases, putting melodies together; chords, preparing for Carol Service and form carol.
Developing an awareness of musical texture, harmony and chordal relationships; building up a repertoire of chords, learning to play them in a variety of contexts and using them as a compositional resource; to have an understanding of semi-quavers, chords, chord progression, primary chords, passing notes, harmonic series, fanfare, riff, steel pans, calypso and carnivals.
Summer Term project: preparing composition to be recorded and then performed; writing commentary to explain how the piece was composed and the inspiration behind it.
Meet the Director of Music at Sompting Abbotts Preparatory School (click on link)
Meet Annette Williamson, Director of Music at Worthing private school Sompting Abbotts Preparatory School which achieves strong results in music tuition. Overseen by Mrs Williamson, students reach up to grade 8 in a variety of instruments. The school has a strong choral tradition too and holds regular orchestral events.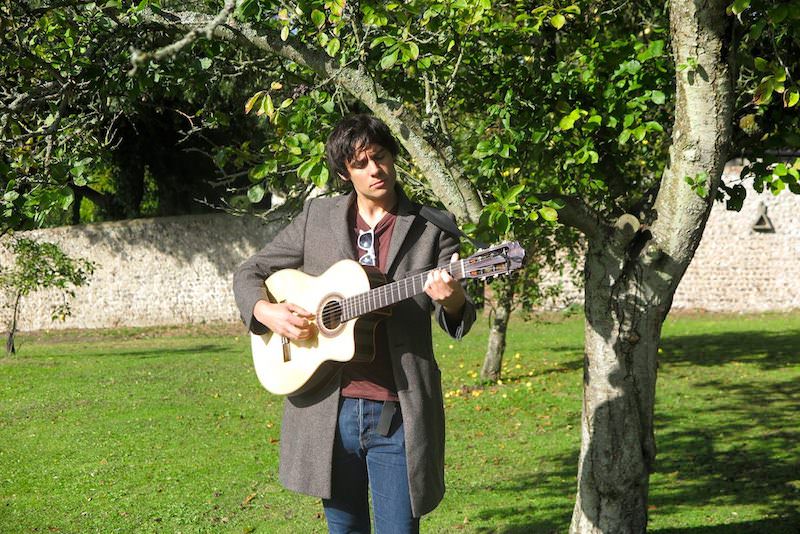 The hauntingly beautiful hit song inspired by the walled secret garden at Sompting Abbotts by Indie-Folk star Ned Mortimer of the band August and After. Ned is a former pupil at Sompting Abbotts who studied under its Head of Music Mrs Williamson. He owes his success today, he says, to the musical tuition he gained at the school.