There's a guilty thrill that comes with reading other people's letters, and doubly so, when that letter opens a window into the past. A well-thumbed hand-written letter, dated 1939, from a parent to a pupil called Jim at Sompting Abbotts, was discovered under the floorboards of an old dorm. How did it get there? We don't know – perhaps it was stored by the young boy under his bed and slipped through. Perhaps it was forgotten when Jim and his fellow pupils were hurriedly evacuated from the school in 1940 following the Surrender of France during the Second World War. Either way, it's a fascinating glimpse into the wartime past. You can read the full letter below.
4, St. Helen's Green,
Harwich,
Essex.
November 22nd, 1939
Dearest Jim,
Many thanks for your nice interesting letter. I bet you all enjoyed the lecture on deep-sea diving.
I would love to be able to see the play, darling. I bet you will make a nice girl. I always said you ought to have been my daughter! Is it fun rehearsing?
I went to London on Monday and returned Tuesday about 6 o'clock. When I got back there was a message waiting for me from Mrs. Watson since 2 o'clock, asking me to go to the quay and help her take all the old clothes I could spare, as the 'Terakuni Maru' (a ship Uncle Charles has travelled on) has been mined and sunk just off this shore and they were bringing in the survivors.
Of course, I rushed off at once but was too late. They had all been given food and hot drinks and dry clothes and had gone up to London.
We sat down for an evening chat with the Watsons. At 9.15 there were two most terrible explosions. One of our own destroyers struck a mine only about 100 yards from the harbour. They brought in about 140 survivors and Daddy and I stayed all night and helped. We gave them hot tea and soup and biscuits. They were practically naked, just wrapped round in old blankets or any old thing and covered in black oil and shivering cold.
We put them in dry clothes but we had only got women`s clothes for them except two young lads I helped into some clothes of yours and David's. One has got a pair of your shoes and a Sompting Abbotts' flannel shirt and your old flannel coat. It was a tight fit but better than nothing.
Some were badly injured and 25 have gone down with the ship. It was a terrible thing and my heart ached for those poor men. They were so brave; they joked and laughed at one another because they looked so funny in women`s clothes. The state they arrived in was pitiful and their poor bare feet were blue with cold. We only had a few pairs of shoes to give out so most had to remain bare footed. There were about four doctors working on those that were badly smashed up.
During this past week about 500 survivors from sunk vessels have been brought in to Harwich and given clothes, drinks, food, care and attention; not a bad effort. The clothes question is the most difficult. I have written to several friends and asked them to send us all the old clothes that they can spare so that we have a good store of warm dry things in case of emergency.
Well darling, I look forward so much to hearing how the play progresses. I bet you all enjoy doing it.
Heaps of love from Daddy.
From your loving Mother
PS Hope you got the skates safely. I sent them from the flat.
We don't know who Jim, the recipient of the letter, was. We can deduce though that his parents either lived or worked in Harwich. Harwich was a naval base during WW2 so perhaps Jim's father worked for the Navy. Many of the boys at Sompting Abbotts at the time would have had fathers in the Forces. Jim's parents appear to have also owned a flat in 'town': in London.
We do know though that a year later, Jim would likely have been evacuated with all his fellow boarders from Sompting Abbotts Preparatory School and taken to safety to a school in Wales. You can read about this period in the pupils' lives here,
At the outbreak of World War 2, nearly 3,000,000 people were evacuated in Britain. They were moved from the towns and cities to safer places in the countryside. Most of these were schoolchildren, accompanied by teachers. They would have worn identity labels and carried their gas masks and a few personal possessions.
Photo: Imperial War Museum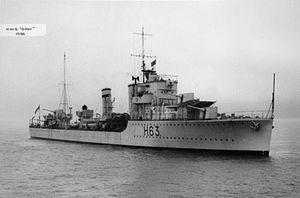 One of the lucky survivors of the HMS Gipsy was clothed that night in a "Sompting Abbotts flannel shirt"
HMS Gipsy was a G-class destroyer built for the Royal Navy during the 1930s. The ship was transferred to the British Isles to escort shipping in local waters shortly after the beginning of World War 2. On 21 November 1939, she struck a mine outside Harwich and sank with the loss of 30 of her crew.
Photo: Imperial War Museum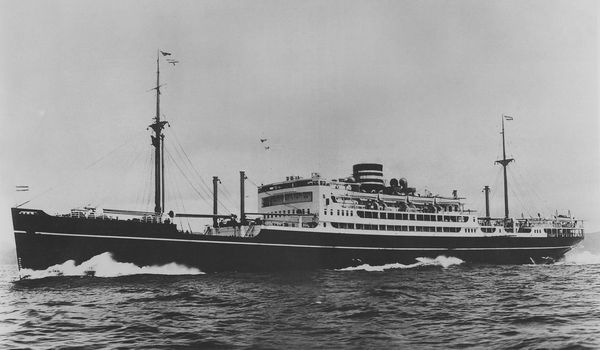 Sinking of the Terukuni Maru
On November 21st, 1939, the Japanese passenger ship Terukuni Maru, built in 1929 by Mitsubishi Shipyard and owned at the time of her loss by Nippon Yusen Kaisha, was sunk by a mine at the mouth of the Thames.

The ship was on her way from Yokohama via Casablanca to London. The British and the Germans accused each other of having laid the mine and it has never been clear who was responsible.
Her sinking has been described as Japan's only World War II casualty outside East Asia before the 1941 attack on Pearl Harbour. After the war, the wreck was cleared with explosives.
Photo: The Golden Age of Japanese Passenger Liners
Update: we have tracked down Jim!
Since this article was published, we have succeeded in tracing the identity of Jim. You can read all about our research here.