Ben Thompson started his drumming career tapping out beats on his school desk…
Today, he's still tapping! Ben (27) is now a professional drummer with award-winning Indie Rock band, Two Door Cinema Club. He's also an in-demand session musician for big names the world over. His percussion skills have taken him across the globe to play in major venues in the US, Asia and Africa. In the UK, he's played everywhere from the O2 to Glastonbury and at major music festivals including Reading, Leeds and Latitude.
But it was at the West Sussex school of Sompting Abbotts where his love of music began. There, Head of Music Annette Williamson was the first to tune into Ben's natural knack for rhythm. She encouraged him to try the drums. Ben also learned piano and guitar at the school.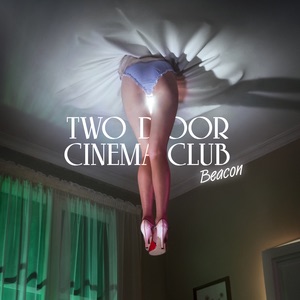 The band has had three top-selling albums. Its debut album, Tourist History, was released in 2010 and selected for the Choice Music Prize for Irish Album of the Year. Its second, Beacon, was released in 2012 and debuted at number one on the Irish Albums Chart, number two in the UK Albums Chart and went Top 20 stateside. The band's third album, Gameshow, came out in 2016 to huge critical acclaim.
Not long after leaving Sompting Abbotts, Ben decided to pursue his musical studies. He enrolled at the British and Irish Modern Music Institute (BIMM) in Brighton. There he was quickly recognised as one of their best and brightest while studying a Diploma in Drums.
Ben's timing – unsurprisingly for a drummer! – was good. His talents were in the right place at the right time. When he was nearing the end of his course at BIMM, the Head of Drums introduced him to an agent. Within a week, he found himself working for Two Door Cinema Club and touring the world. He was catapulted into his professional drumming career at 16.
Two Door Cinema Club is now a household name. A big attraction at festivals and sold-out concerts, it has millions of fans across the world.
As live drummer for Two Door Cinema Club, Ben has now toured the globe multiple times and performed at a multitude of domestic and international festivals.
Ben's repertoire, though, extends beyond his work with Two Door Cinema Club. He has worked with acclaimed producer, Hudson Mohawke, and playing for many well-known artists as both a session drummer and live musician.
In 2017, Ben fulfilled another dream. Taking a six-month hiatus from the road and performing, he established a restaurant and bar in Worthing with his best friend. "It's going very well and we've had some great reviews," he said. Called Manuka Bar and Kitchen, it also regularly showcases live music.
Ben, tell us about your life today
I'm about to fly to Vancouver for the start of a nine-week tour with US rock band The Night Game. I've also several TV performances coming up including the Ellen Show and James Corden.
Why did you get into drumming?
I've always had music around me. My dad, especially, is musical. He plays guitar and was in bands so I kind of I grew up with music. His mother, my grandma, was a successful opera singer. She played at the Royal Variety and performed before the king. My dad loved inspirational performers. So I was inspired too by musicians such as Jeff Porcaro, Bernard Purdie, Simon Phillips and Steve Gadd. My dad bought me my first real drum kit. He was always the band organiser and I got a lot of that from him. My specialty now is music direction of live shows. I love taking songs from an album version to something more exciting for stage.
Do you get nervous performing?
I'm kind of used to it now, even the TV performances. I don't really get spooked playing in front of people. I put much of that down to what I learned at a young age at Sompting Abbotts about performing.
What do you recall of your time at Sompting Abbotts?
I was at Sompting Abbotts from 2000- 2005 from the age of 9 – 13. My proper introduction to music was at the school. I was always tapping on the desk and irritating the teachers! I remember Mrs Williamson suggesting I try some drum lessons. I thought she was joking but she wasn't.
Next minute, I was playing on the school drum kit. That kit is still here! Sompting Abbotts encouraged performing. It was a big part of school life to perform in assemblies and concerts and that really helped me not be nervous.
What emotions has your return visit to Sompting Abbotts provoked?
It's both grounding and wonderful to return here. Coming back to the school and being back in the Assembly Room that I first performed in brings you back to earth! It's crazy to think that aged 9, I was performing in front of parents and now I play in front of 80,000 people at Glastonbury.
The school had an amazing influence on my life and music – all down to the grounds, the relaxed vibe and supportive teachers. The school felt like a family – something that's very relevant to touring as I do. In my job, you have to be 'family' with the band and crew. You need the right social skills to get on with everyone – especially when you're dealing with tour buses and crowded dressing rooms! I had those people skills and that family sense ingrained in me at Sompting Abbotts.
It's a magical place. I still come up sometimes in the summer to walk around the grounds and think.
Sompting Abbotts is a hidden gem of a school. I feel very nostalgic about the years I spent here. I owe it so much. I'd also say I learned so much at the school. I did my Common Entrance exams there and found GCSEs a breeze after that.
Family life isn't something I can think about at this stage of my career but when I have my own children, I definitely want to send them here.